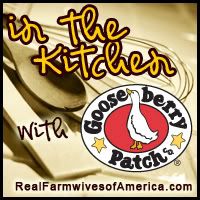 John loves meat loaf, so I knew when I saw this recipe for Connie's Meatloaf Roll in
Gooseberry Patch's
Autumn with Family & Friends
, I knew we had to try it!
Mix together 2 beaten eggs, 3/4 cup plain bread crumbs, 1/4 cup ketchup (catsup?), 1/4 cup milk, 1/4 teaspoon dried oregano, 1/2 teaspoon salt, and 1/4 teaspoon pepper. (Use a big bowl!)
Add in 2 pounds ground beef.
I used 1 pound ground beef, and 1 pound ground elk meat. Hubby Doc does some hunting, and we have some deer and elk in our freezer from a hunting trip. The game meats are
really
lean, which means they taste great, but don't hold together well for something like this. By mixing with lean ground beef, we get some of the game flavor, but the meat loaf does not fall apart.
Open and drain a 7-ounce jar of roasted red peppers. I gave mine a quick rinse under cold water.
Line a pan with aluminum foil…
And spread out your meat mixture in a nice rectangle.
Layer 6 slices of Swiss cheese to cover the meat loaf.
Then layer the roasted red peppers on top of the cheese.
Roll the whole she-bang up like a giant jelly roll. (I will admit, I have never made a jelly roll. I get what it means, but should we change the simile?)
This was the hardest part of the whole thing.
Try to keep the peppers and the cheese inside while you roll… and then pinch the ends together so things don't fall apart.
Pop this in a 350 degree oven for an hour and 15 minutes.
The recipe calls for putting the roll into a 13x9 baking pan. I left it on top of the aluminum foil in my jelly roll pan. I am glad I did. It made a mess, and I had easy clean up!
Here's dinner… Meatloaf roll, Grandma's Buttery Mashed Potatoes from the same cookbook, and broccoli from our garden with a little seasoned salt. Yum!
Special thanks to
Gooseberry Patch
for providing me with
this great cookbook
to try and to share with you. If you would like to see other great recipes, check out
www.realfarmwivesofamerica.com
.
Here's the printable recipe card:
One of the comments in the cookbook is that this recipe was based off a meatloaf sandwich. We have not tried this as a sandwich, but I bet it would be great!!
{Affiliate links were used in this post.}